By Lee Roy Lucero
Enchantment Sports Staff Writer
The bye weeks are starting for many high school teams this weekend, leaving a light schedule on ProView Networks and our preview. Some of the big questions; how will Eldorado do without Gabe Smith? Can Rio Grande pick up its second win of the season? Who is on top for 5A, the Dogs, or the Coyotes? Enchantment Sports talks with ProView Networks' Sebastian Noel and Adam Diehl about this week's matchups.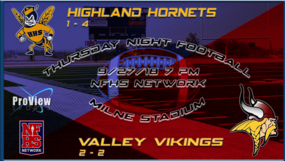 Highland (1-4) @ 5A No. 8 Valley (2-2)
"Highland has not been very competitive," says Diehl, "and Valley has a shot of being one of those final 4 teams in 5A.  They have a solid quarterback in Manny Sanchez-Vargas, their running back Jshawn McDaniel has played well, and Jove Messenger is a good receiver. They aren't deep, so they can't afford any injuries."
Noel says, "On paper they are evenly matched. Highland has a few guys coming back from injury. I'm not quite sure where you put Valley, I think they are still finding their way. Valley has played some tough teams and this game gives them a chance to get better."
Adam – Valley
Noel- Valley
Lee Roy – Valley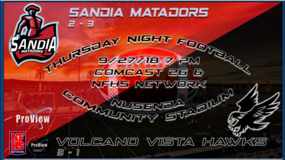 Sandia (2-3) @ No. 5 Volcano Vista (3-1) 
"Sandia's LeShawn Joseph is a really nice running back," says Noel. "And they have been improving every week. I think they have a real chance."
Diehl adds, "Volcano has to prove to everyone that they are legit, and they can be that their top five-ranking is legit. It isn't going to be easy for the Hawks though. Sandia is a talented young team. I think Matador coach (Kevin) Barker's team plays to give themselves a chance at the end of the night. I think this game will be very close."
Adam – Volcano
Sebastian- Volcano
Lee Roy – Sandia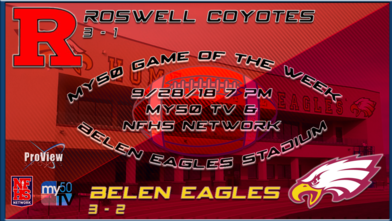 No. 1 Roswell (3-1) @ No. 6 Belen (3-2) 
"This 5A battle is our My50 TV game of the week," exclaims Diehl! "Class 5A is really interesting right now. No. 4 Artesia fell to 6A Cleveland 49-14 in Rio Rancho last week, but you can tell they are a good team. This will be a heck of a matchup, and Roswell wants to show they belong in the blue trophy picture."
Noel agrees, "Roswell really took it to Los Lunas, and showed they are a team to be reckoned with. Now if they can put that same sort of effort week-in and week-out, they could be in the championship picture. Belen will go as far as running back Diego Casillas takes them. I'm not sure there are enough pieces surrounding Casillas to make that championship run, but we will learn about both teams Friday night."
Adam -Roswell
Sebastian – Roswell
Lee Roy – Belen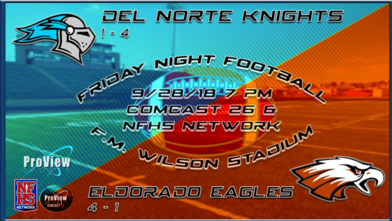 Del Norte (1-4) @ 6A No. 4 Eldorado (4-1)
"Eldorado needs to find their identity without superstar quarterback Gabe Smith," says Diehl. For those unaware, last week Gabe Smith broke his collarbone and elected not to have season-ending surgery, hoping to make it back in time for the playoffs.
"Eldorado has Del Norte this week, followed by a bye, and is hoping that Smith can return."
 "I think the Eagles are glad they are facing Del Norte this week. The Eagles have to quickly feel comfortable with new quarterback Nick Petty," says Noel. "I did the game last week when Smith went out, and thought Petty played well in relief. It is going to be a little different this week as Del Norte's coach Binkley is able to get ready for Petty. I didn't see Eldorado change their offense and I don't expect them to this week either.
"The Knights are trying to get through their non-district schedule and play well in district," adds Noel. "They still believe they can do some damage once district starts."
Adam- Eldorado
Sebastian – Eldorado
Lee Roy – Eldorado
Rio Grande (1-4) @ Atrisco Heritage (0-4)
"I don't want to disparage the Ravens," says Noel. "They are really starting to look like a team putting it together and I wouldn't be shocked if they pulled off the victory. Still, I'm not sure they can beat the Jaguars. Atrisco has to get this one as they are looking down the barrel of a zero-win season, and this is a winnable game for them."
"I really like what Dennis Minidis is doing at Rio Grande," adds Noel. "They are improving every week, building confidence and pride. Next year more guys join the team and they could start getting better. I think Minidis and these kids are doing just that, and it is really cool."
Adam – Rio Grande
Sebastian – Atrisco
Lee Roy – Rio Grande
Other Metro Teams in Action
Friday Night
No. 2 La Cueva @ Albuquerque High
Moriarty @ Hot Springs
Hope @ Los Alamos
Academy @ Raton
St. Pius X @ Aztec
No. 2 (5A) Los Lunas @ Goddard
Valencia @ Bloomfield
Navajo Pine @ Menaul