Each week Enchantment Sport's Lee Roy Lucero gets together with ProView Network's playby-play announcers Sebastian Noel and Adam Diehl to take a look at some of the Albuquerque Metro Area's exciting high school football action.
---
By Lee Roy Lucero
Enchantment Sports Staff Writer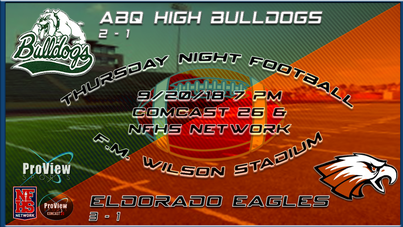 Albuquerque High @ No. 3 Eldorado
 "Thursday night is a blowout festival for the Eldorado Eagles' homecoming game," says Diehl. "Don't expect any green fireworks in this one. Eldorado could end this at half if they choose, but I have a feeling they will give their starters a few minutes, then bring in the backups to get some scrimmage time. Eldorado needs to stay healthy as they are not deep."
"This week should be a big confidence builder for the Eagles," adds Noel. "The Eagle offense doesn't gain anything with this game, and I won't be surprised to see them sit a lot of the starters to keep them healthy. But for the defense they need to show that they are for real."
"The problem I see for Eldorado is that their schedule is so weak," says Diehl. "Last week it was Atrisco Heritage, this week Albuquerque High, next week Del Norte, then a bye week before playing arguably the best 6A team in the state La Cueva. The Eagles aren't really being tested and they are just trying to stay healthy, that doesn't help them to get better."
Adam: Eldorado
Sebastian: Eldorado
Lee Roy: Eldorado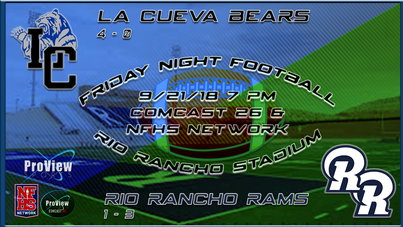 No. 2 La Cueva @ Rio Rancho
 "I understand Rio Rancho quarterback Isaiah Chavez is finally healthy, as he has been battling injury," says Noel. "That should really help them. I thought the Rams took a big step forward in defeating Clovis two weeks ago, then they took two huge steps back last week falling to Las Cruces 44-33. They are a weird team right now. They have the quarterback, an excellent staff, and they are a good team — but at some point, you are what your record says you are."
Diehl says, "La Cueva has the best defense in the state right now. They have one of the best running backs in D'Andre Williams, and Dylan Summer has been fine when healthy. I look for the Bears to roll here."
"Dylan (Summer) has been fine," adds Noel. "He had a pick in the opening week, but really doesn't hurt his team. I think some of the criticism on him has been unfair. He is the kind of quarterback that isn't going to hurt his team… He is the type of quarterback that can lead his team to a state title."
Adam: La Cueva
Sebastian: La Cueva
Lee Roy: La Cueva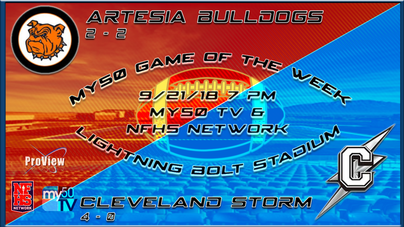 No. 2 Artesia (5A) @ No.1 Cleveland (6A)
"These two storied teams played last year (final score Cleveland 56 – Artesia 49) and it came down to the wire," says Diehl. "I expect this one to be tighter than most people expect. The Bulldogs have turned it around since their 0-2 start and they may just be the favorites in 5A now. I'm thinking a late pull away by Cleveland to secure the victory."
"Cleveland is really trying to open up their offense now, at the beginning it was all Dorian Lewis, Dorian Lewis, and more Dorian Lewis," says Noel. "Last week against Mayfield (QB) Jeff Davison got involved and sophomore wide receiver Tre Watson was fantastic, as the Storm try to get the entire offense involved heading into the playoffs.
"Artesia is going to be Artesia," adds Noel. "They have 30 championships behind them doing what they do best; throwing the ball! The Bulldogs play Artesia ball no matter what. There isn't a lot of programs that always have the confidence in their quarterbacks the way Artesia does, and Clay Houghtaling has been the starter as of late. Look for the Bulldogs to try to go up top on Cleveland."
Sebastian: Cleveland
Diehl: Cleveland
Lee Roy Cleveland 
Manzano @ West Mesa
"The loser of this game will not make the playoffs" says Diehl.  "So, this is an elimination game. Manzano constantly flirts with winning, but keeps falling short. They played well against Volcano Vista, but just can't come up with the 'W'."
Sebastian: Manzano
Diehl: Manzano
Lee Roy: West Mesa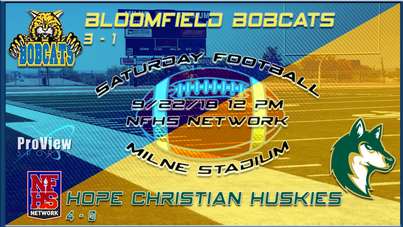 Bloomfield @ No. 1 Hope Christian (3A)
"Hope Christian is the best team in 3A and they are making a run to the blue this year," says Diehl.
 A chuckling Noel says, "The greatest ProView broadcaster on the roster is on this game! Bloomfield runs the same Wing-T that Moriarty did against the Huskies two weeks ago. Moriarty got blown out against Hope. I kind of expect the same thing to happen to Bloomfield. They are going to have a hard time moving the ball. Last week against West Las Vegas, (Hope) quarterback Nick Henry had a couple of fumbles and an interception. But they still won 45-0, so I'm sure coach (Gary) Beck had something to get on them for as he just wants to keep this thing rolling."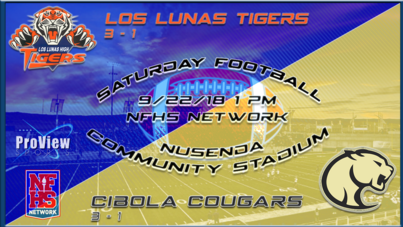 No.4 Los Lunas (5A) at No. 10 Cibola (6A)
"This is a potential bounce back game for both teams, as both are coming off their first loss of the season. Cibola is better than the beating they took against La Cueva last week (43-14), and Los Lunas is better than their 42-20 upset loss to Roswell," says Diehl. "The Tigers looked anemic, stagnant, uninterested to start the game (last week). In a rematch with Roswell, I think the score would be much different. The Tigers don't want to lose this one or things could start to spiral."
Noel adds, "Los Lunas has a ton to clean up from last week. Their offensive line got beat, their defensive line got beat, quarterback Nick Gaerlin may have had the worst game of this career last week, and I'm sure coach (Jeremy) Maupin has been working them for this game.
"If Cibola is for real, then they really need to show up for this game. They have a nice quarterback in Marcus Steele and I don't know who is making the offensive play calls for them, but he has done an amazing job as the Cibola offense is imaginative and quite entertaining," says Noel.
Adam: Los Lunas
Sebastian: Los Lunas
Lee Roy: Los Lunas
Other metro games this week:
Friday
Capital @ Moriarty
Highland @ Del Norte
Academy @ Escalante
Rio Grande @ Sandia
Belen @ Piedra Vista
Bernalillo @ Santa Fe
Santa Teresa @ Valencia
Saturday
Portales @ St. Pius
---
To contact Lee Roy with tips and story ideas, please email EnchantmentSportsNM@gmail.com