By Lee Roy Lucero
Enchantment Sports staff writer
The 2019 New Mexico High School football season started off with some great games and when all was said and done, one vote separated who is No. 1 and No. 2 as defending champion La Cueva fell to Volcano Vista 36-25 last Thursday, and Cleveland blanked Onate 50-0. One would think the Volcano victory over the defending champs would be enough to propel them to No. 1 on this week's poll, but a heckuva case can, obviously, be made for the top-ranked Storm.
Just one question:
Who voted for La Cueva?
The injury bug hit all three top 6A teams this past weekend. The most severe injury was suffered by La Cueva wide receiver Nas Robertson who posted on Twitter that his senior season is over due to a knee injury.
Also suffering injuries this week, Cleveland wide receiver Tre Watson is out at least four to five weeks with a broken forearm and Volcano Vista quarterback Diego Pavia suffered a sprained ankle and there have been no reports as to whether Pavia will return to action. 
Thursday Night's Games 
Sandia (0-1) vs. Atrisco (0-0) – Community 7 p.m.
"If Chad Adcox wants any part of the post season, they cannot lose to Atrisco," says Adam Diehl. "LeShawn Joseph who should have another great game."
THE Authority Sebastian Noel says, "Joseph is a great running back, the second best in the state behind Dorian Lewis, but that Sandia defense was torched last week vs. Cibola. This is a good game for coach Adcox to shore up that defense.
"Atrisco will run, run, and run again," says Noel. "Unfortunately for the Jaguars their game was cancelled last week due to lightning. Has to be a drag for the kids as they travel the entire way down, don't play and then get back on the bus."
Diehl: Sandia
THE Authority: Sandia
Lucero: Ole
No. 3 La Cueva (0-1) vs. Valley (0-1) – Wilson 7 p.m.
"Valley will struggle vs. La Cueva," says Diehl. "This is the perfect bounce-back game for the Bears after last week's setback against Volcano."
Noel says, "I feel bad for Nas Robertson, missing his senior year due to injury stinks. La Cueva still has the state's number one wide receiver, Connor O'Toole, but let's see who steps up as the second wideout for the Bears. This is a good game for coach Back to find who his premier running back is going to be and establish their running game."
Noel: La Cueva
Diehl: La Cueva
Lucero: Get your hot dogs and pizza early. Bears
 Friday Night
Onate (0-1) vs. No. 10 Cibola (1-0) – Community 7 p.m.
"Cibola found a star in frosh Aden Chavez (Dreamstyle Remodeling/Enchantment Sports Player of the Week) that virtually came out of nowhere," says Diehl. "Looking at Cibola's schedule they really need to come out strong as once district starts it is a meat grinder. They should handle the Knights." 
"It is one game," says Noel. "But a great game for Chavez. While most people are excited about Cibola's offense, the Cougar defense did give up a ton of points and yards to Sandia."
Diehl, Noel, Lucero: Cibola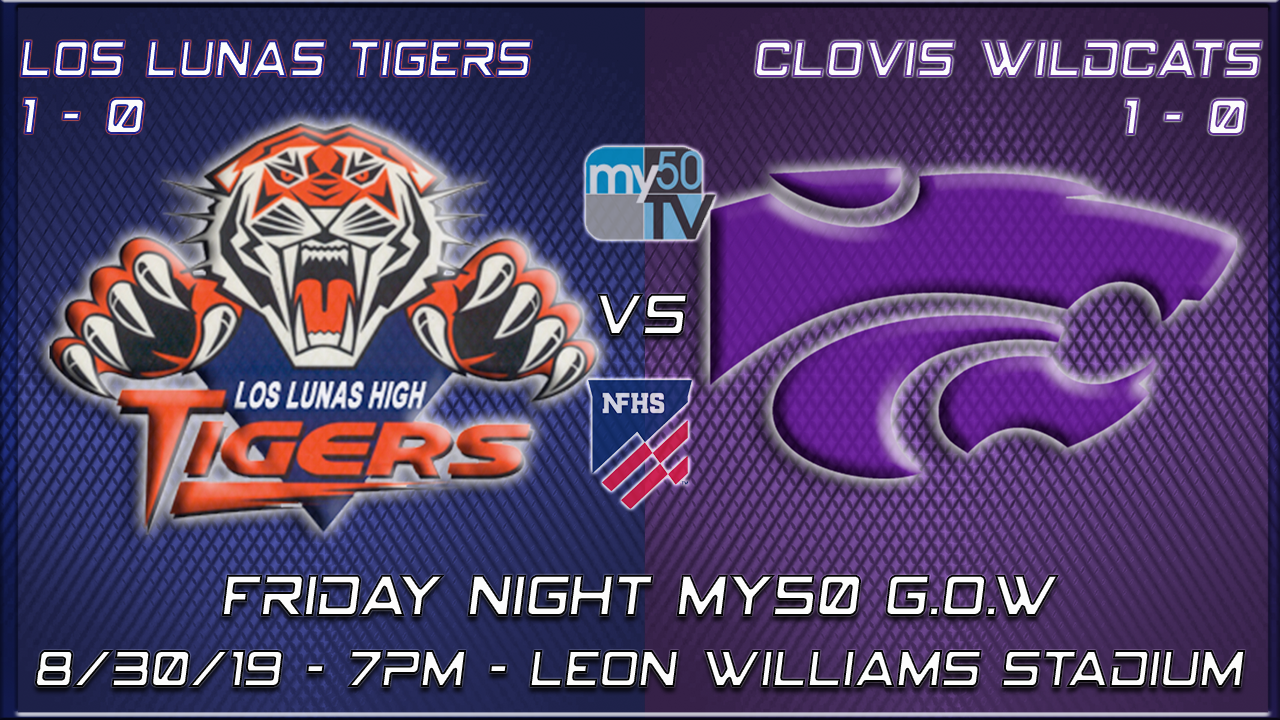 No. 1 Los Lunas (5A) @ No. 6 Clovis
"Clovis is my dark horse for the 6A this year," says Noel. "Coach Fullerton has a very good quarterback in Chance Harris and their running back Jeston Webskowski had a huge game versus Hobbs (171 yards rushing, four touchdowns). The ProView gang is going all out, as the ProView airplane is gassed up and ready to go. Here we come Clovis."
Adam: Clovis
Noel: Clovis
Lucero: Rawr! Tigers
 Saturday Games
No. 4 Las Cruces (1-0) @ No. 7 Eldorado (1-0) – Wilson 1PM
"Both teams have more ability than  people maybe thought at the beginning of the year," says Diehl. "Marcos Lopez the quarterback from Cruces is really good. Eldorado may not be the deepest team in the state, but their first team is very talented, and they will cause other teams plenty of problems."
Noel: Eldorado
Diehl: Eldorado
Lucero: Bulldawgs 
Hope Christian (0-1) vs. Espanola Valley (0-1) – Milne 6 p.m.
"When I visited Hope during training camp, coach Beck said he was a bit concerned about his defensive backfield," says Noel. "Against Portales they surrendered some really big plays including a 98-yard touchdown pass, so coach Beck needs to go to work with his defensive backfield or it could be a long year for the Huskies."
 Diehl, Noel, and Lucero: Hope
Tune into ProView Networks and EnchantmentSports.com for the best in high school football coverage across the state of New Mexico, and let's see if Volcano is able to pick up that ONE vote as Cleveland is in El Paso this weekend.
---
Lee Roy Lucero is an Albuquerque native, former editor of The Red Menace website and a play-by-play announcer for ProView Networks. He is Enchantment Sports' editor of high school sports. For tips or story ideas, contact Lee Roy Lucero at enchantmentsportsNM@gmail.com.