By Lee Roy Lucero
Enchantment Sports
Starting this football season with ProView Networks Sebastian Noel and Adam Diehl the top four teams we looked at in the 6A brackets were Cleveland, La Cueva, Centennial, and Volcano Vista.
As the 2018 New Mexico Prep football season ends it is, yep, you guessed it Cleveland, La Cueva, Centennial, and Volcano Vista. Seems like the ProView guys know their business. And why shouldn't they? ProView Networks along with the NFHS network does hundreds of New Mexico high school events throughout the entire year.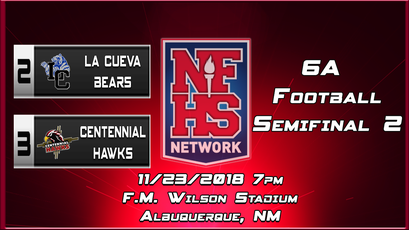 No. 3 Centennial @ No. 2 La Cueva
"Two undefeated teams that have been winning ugly," says Noel. "Still at the end of the season, both are undefeated and playing to get to the championship game. I spoke with Centennial coach Aaron O'Campo, and he mentioned how La Cueva's and Centennial's seasons have mirrored one another winning tight games; but still winning. Coach O'Campo is extremely impressed with La Cueva's defense, and he should be. They have been tough all season and opponents average 13.5 points per game.
"La Cueva's quarterback Dylan Summers isn't always mentioned as one of the top metro area's QB's," says Noel. "Still, he has played in a championship game before and has found his two top receivers Nas Robertson and Connor O'Toole, and D'Andre Williams is one of the top running backs in the state. But the secret weapon for La Cueva is their kicker Dominic Camacho. He has an accurate leg from forty in and coach Brandon Back has complete confidence in the young man. That is a weapon for a high school team, and if it comes down to a Camacho kick, he will nail it."
"Centennial has been underrated all year," says Noel. "Adam (Diehl) has been questioning them all year, but he isn't the only one. Starting the season most felt they were the best southern New Mexico team, but not top five. But they proved it on the field. The Hawks' quarterback Lance Frost has been strong with both his arm and legs going over a thousand yards in both categories, and he really takes care of the ball."
Look for a close one that might come down to a Camacho kick to move into the championship game.
Noel, Diehl and Lucero all pick La Cueva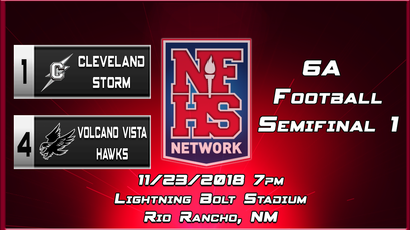 No. 4 Volcano Vista @ No. 1 Cleveland
"This game is interesting as Cleveland is a team built on power, while Volcano Vista is built upon speed, "says Noel. Cleveland is so powerful, strong in the trenches on both sides of the line, and their skill players are some of the best in the state; from quarterback Jeff Davison to wide receiver Tre Watson. This team is physical. Even after Storm superstar running back Dorian Lewis went out with a season-ending knee injury the Storm has not looked back, as Colten Madison has run well behind the Storm's powerful offensive line. Coach Heath Ridenour has had this team playing all out this season."
"The Hawks have had a solid season," says Noel. "They are 9-2, with both of their losses coming to undefeated La Cueva 38-26 and Cleveland 61-46. This will be a tough game for the Hawks as I'm not sure they match up well with the Storm. Who does? For Volcano it all comes down to quarterback Jake Deatherage. If he throws any interceptions, the Storm will blow them away. He has to have a solid game in finding his wideouts Joah Flores, Ivan Rodriguez, and Jacob Werner. If Deatherage is given time and finds some holes, he is a solid dual-threat quarterback that could carry the Hawks."
NOTE: Enchantment Sports' Mark Smith will cover tonight's Cleveland vs. Volcano Vista game, courtesy of the Rio Rancho Booster Club.
Game picks:
Noel and Diehl: Storm
Lucero: Can't stop the Storm.
BONUS PICK: Adam Diehl picks Hope to win tonight in Class 3A at Milne against Las Vegas Robertson.
Well that's it for this week in 6A. I encourage you all to read Ed Nunez's article as he breaks down 5A-3A playoff games this week. You can catch all this weekend's playoff action on the NFHS network via ProView Networks, and don't forget Sebastian Noel's "Uncoachable" videocast.
---
Lee Roy Lucero is a staff writer for Enchantment Sports. For high school information, tips or story ideas, contact Lee Roy Lucero at enchantmentsportsNM@gmail.com.