By Lee Roy Lucero
Enchantment Sports
Week two of the New Mexico high school playoffs, and the top four seeds of every classification had a week to rest and prepare. Enchantment Sports spoke with ProView Network's Adam Diehl to discuss this week's games.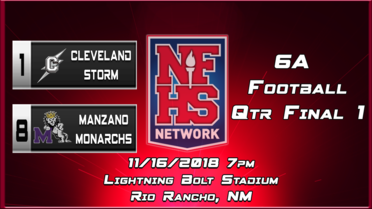 No. 8 Manzano @ No. 1 Cleveland
"I think Manzano is pretty good," says Diehl. "In the trenches, Manzano could win. If the Monarchs can be methodical and build long, time-consuming drives like they did last week versus Rio Rancho, get a defensive stop or two, they might be able to frustrate Cleveland. Quarterback Dakota Powell has been very efficient this year, and Ivey Saud is the workhorse for this team. Cleveland will try and stop him. Manzano has a couple of receivers they have developed in Jack Blankenship and the speedster, Austin Erickson, but Cleveland has the speed to match up against them.
"We all know that Cleveland has some awesome skill positions, but this game comes down to Cleveland's fantastic offensive line and Manzano's solid defensive line. That's the matchup right there. I think the Storm are a double-digit favorite, and it might be a late game pull away."
Cleveland all the way, says Diehl
Lucero: Championship time for the Storm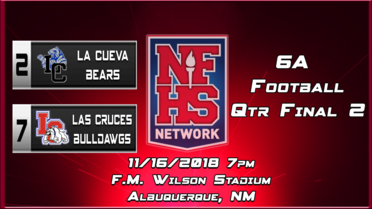 No. 7 Las Cruces @ No. 2 La Cueva
"This is a rematch from week three where La Cueva decimated Las Cruces 49-3," says Diehl. "I expect a closer game this time around, but I believe La Cueva defeats the Bulldawgs once again by a couple of scores at least. The Bears are just bigger, faster, more athletic. La Cueva has great talent in the skill positions.
"Las Cruces running back Chase Chaloupek is excellent. Ivan Molina is solid in the wildcat position and is a solid target in the slot, but after that, I don't think they match up with the Bears. La Cueva may have the best defense in the state, and running back D'Andre Williams should have a huge game. I'm thinking 200 yards plus."
Diehl: La Cueva
Lucero: Da Bears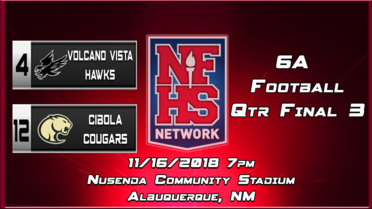 No. 12 Cibola @ No. 4 Volcano Vista
"This, I think, will be the best game this week," says Diehl. "Volcano took care of Cibola a couple of weeks ago, but there is a lot that went wrong for Cibola that game that I believe the Cougars clean up for this one to make it closer. Marcus Steele is an underrated quarterback, and (he and) his main target, Nathaniel Manzanares, are explosive. And the wide receiver doubles as a punt returner that has run a couple back this season.
"There will be a lot of people at this game; it is a serious rivalry and the second time they have played in three weeks. Everything is there for Cibola, emotionally, and they have the talent to match up with the Hawks. We're going to find out if Volcano coach Chad Wallin has his team prepared after a week off. Jake Deatherage has been brilliant, and the Hawks have the speed."
Diehl: Volcano in a tight one
Lucero: Going out on a limb, Steele leads Cibola to an upset
No. 11 Eldorado @ No. 3 Centennial (in Las Cruces)
"Poor Gabe Smith," says Diehl. "He gets in last week, scores three touchdowns in the first half against Hobbs, and then rebreaks his collarbone. You have to feel bad for him. I still believe Eldorado gives Centennial fits without Gabe Smith. Eagle backup quarterback Nick Petty has had plenty of time in the starting role, and their offense should be efficient enough to keep them in it."
Diehl: I think the Hawks still win by a touchdown, but Eldorado will push them to the edge.
Lucero: Centennial has been overlooked all season. I think they explode this week.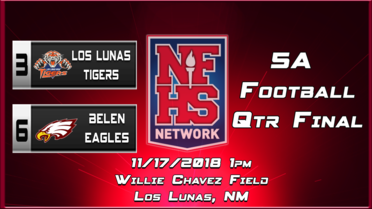 No. 6 Belen @ No. 3 Los Lunas (5A)
"Second time these two teams have played in three weeks," says Diehl. "And last time, Belen got smashed in this rivalry game. That could swing the game a little bit, but Los Lunas is a much better team in the trenches. That has been an issue with Belen all season, even with superstar (running back) Diego Casillas, they haven't been able to run the ball consistently."
Diehl: I believe the Tigers should walk away with this one pretty easily
Lucero: Rawr- Tigers all the way
Other Metro Area playoff games this weekend:
No. 8 Valley @ No. 1 Roswell (5A)
No. 9 Aztec @ No. 1 St. Pius X (4A)
No. 9 Tularosa @ No. 1 Hope Christian (3A)