By Lee Roy Lucero
Enchantment Sports Staff Writer
Who is that top quarterback currently playing in the Albuquerque Metro Area? That was the conversation this week as Enchantment Sports spoke with ProView Networks' Adam Diehl and Sebastian Noel.
We had to exclude Eldorado's Gabe Smith and Los Lunas' Nick Gaerlan as both are out with season-ending injuries. Though word coming from Eldorado that Smith may give it a shot soon as the Eagles' playoff hopes are on the line.
Adam says, "Jake Deatherage may just be the best quarterback in the Metro Area right now."
A laughing Sebastian replies, "Adam is all about Deatherage this week, and he had an unbelievable game last week. Cleveland's Jeff Davison is young, but he is in surely in the conversation as the top quarterback."
Does Rio Rancho's Isaiah Chavez fit in there? Diehl says, "He is pretty good." Noel says, "I don't know right now; I think it's Deatherage or Davison."
Let's talk about this week's games: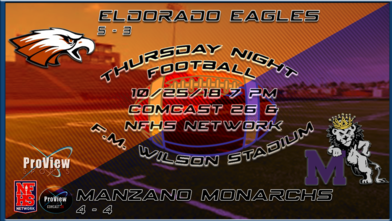 No. 9 Eldorado Eagles (5-3) at No. 6 Manzano (4-4)
A lot of playoff implications," says Diehl. "Last week Eldorado goes down to Clovis and gets smashed 47-0. They really need a rebound game. They will get a terrible seed if they can't beat Manzano on Thursday. Does Gabe Smith play? Nobody really knows if he returns."
Noel doesn't feel that Eldorado's Gabe Smith comes back this week. "Perhaps, next week or in the playoffs, but I don't think he plays this week."
"Manzano is playing really good football right now," says Diehl. "They only lost by one to La Cueva and blew out Clovis a couple of weeks ago. Their quarterback, Dakota Powell, is playing well, and Ivey Saud is one of the best running backs in the state. "
Diehl: Eldorado
Noel and Lucero: Manzano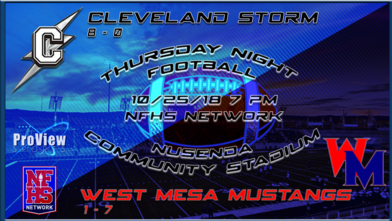 No. 1 Cleveland (8-0) at West Mesa (1-7)
"I'm doing this game," says Noel. "I might leave the car running as this one ends early. Coach Ridenour just wants to get out of this game without injury."
"Cleveland doesn't have anything to prove," adds Diehl. "Coach Ridenour may want to work on some things defensively because their secondary was torched last week by Volcano Vista's Jake Deatherage. They are going to go for a shutout."
Noel says, "West Mesa is down 23 players due to injury, and they have had a tough season."
Lucero, Diehl, and Noel: Cleveland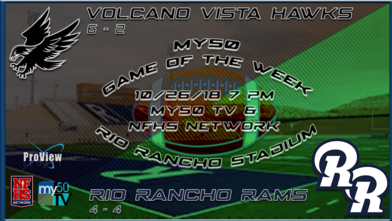 No. 5 Volcano Vista (6-2) at No. 9 Rio Rancho (4-4)
My 50TV game of the week
"Evenly matched teams here as Volcano proved they belong in the top team category the way they played vs. Cleveland last week," Diehl says. "Jake Deatherage is playing fantastic. The Hawks have some weapons, and this game is huge."
"Rio Rancho has won three straight and have righted the ship out there; they have a good QB as well," Noel says. "Isaiah Chavez has been playing unbelievable. This is going to be a good game with a good quarterback duel."
Diehl and Noel: Volcano
Lucero: Rio Rancho Rams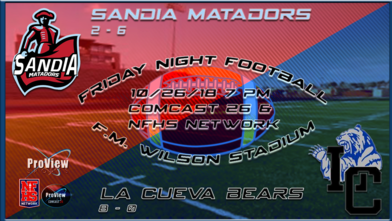 Sandia (2-6) at No. 2 La Cueva (8-0)
"Time for La Cueva you really to give a solid game," says Diehl. They are 8-0, but they have been sloppy for most of their games. Hard to say that about an undefeated team, but it is true. Sandia is young and struggling, I look for the Bears to really get things right this week."
Noel, Diehl, and Lucero: La Cueva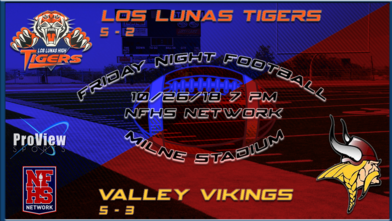 Los Lunas (5-2) at Valley (5-3)
"Valley has a good record but a weak schedule to achieve that record. Not sure they are ready for a team like Los Lunas," says Diehl. "They went into Belen and got smashed 42-14. "Los Lunas is better than Belen, even without Nick Gaerlan. The Tigers are doing a good job, they have some offensive weapons and a stout defense. I think it's a bad matchup for Valley. The Tigers are trying to get a bye week in the playoffs."
Diehl, Noel, and Lucero: Los Lunas
Well, that doesn't answer the question as to who the best quarterback is in the metro area right now.
Sebastian Noel and coach Dominic Bramante
"Well, I have Duke City Gladiators' coach Dominic Bramante here with me right now," says Noel. "We just finished our videocast on the Gladiators Facebook page, and he says right now it is Jake Deatherage. Coach B knows more football than I've ever known, so if he says Jake, I'm going with him.
Other Metro Area Games of Interest this Week
Friday, Oct. 26
Montezuma-Cortez at Academy
Grants at Bernalillo
Belen at Valencia
Hope at Cuba
Albuquerque High at Shiprock
Highland at Piedra Vista
Moriarty at Portales
Foothill at Menaul
St. Pius at Espanola Valley
Atrisco at Cibola
Saturday, Oct. 27
Santa Fe at Del Norte
---
For high school information, tips or story ideas, contact Lee Roy Lucero at enchantmentsportsNM@gmail.com.