By Lee Roy Lucero
Enchantment Sports
Staff Writer
There are three weeks left until the New Mexico High School football season playoffs start, and with such a light schedule of games on ProView Networks this weekend  I  decided let's take a look at lead broadcaster Adam Diehl tries his hand at "6A Diehl-tology"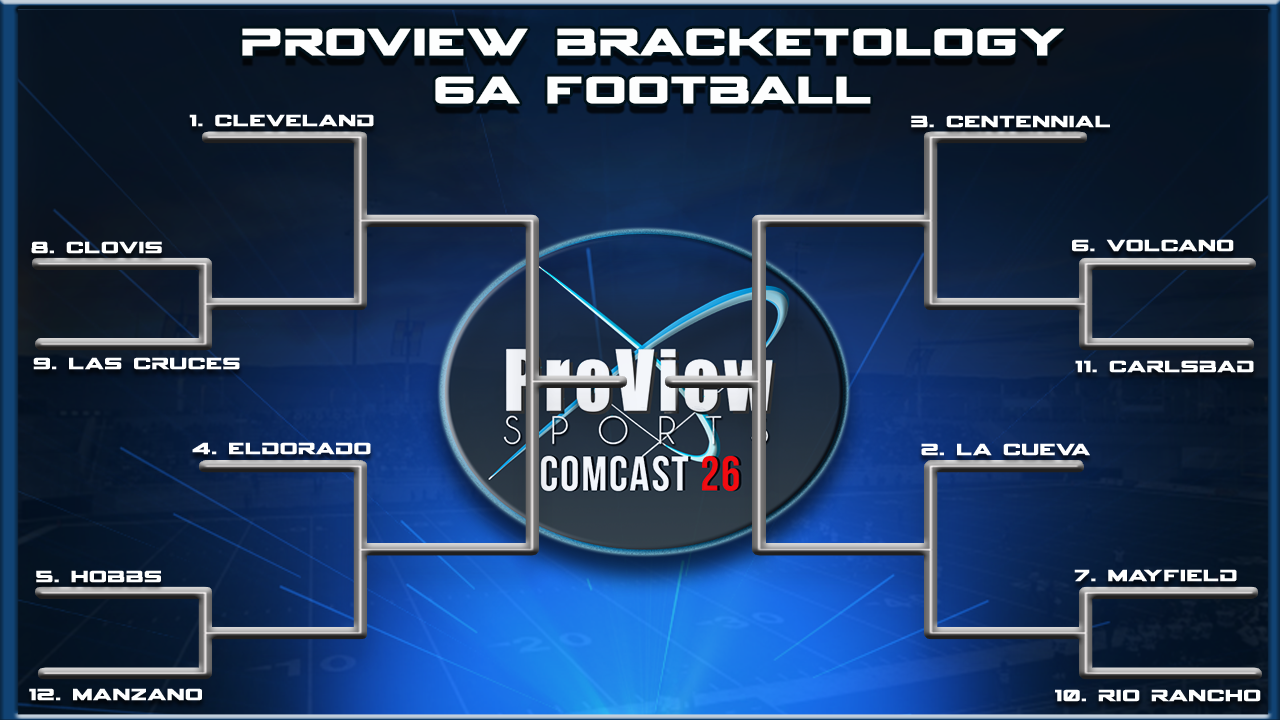 Diehl-tology: A combination of Diehl brains and bracketology.
West Mesa @ Cibola
"Cibola has to win if they want to keep their playoff chances alive," says Diehl. "They are on the outside looking in. They  are on a four-game losing streak and coming off a crushing 52-15 defeat to the Cleveland Storm last weekend. Things aren't going their way right now and the Mustangs might just be the cure they desperately need."
"Hold on," jokes Sebastian Noel. "I'm calling West Mesa boys basketball coach Shonn Schroer to see if his son and star point guard Camren Schroer is playing football still." (The news out of West Mesa isn't good for Camren Schroer,as he did suffered season-ending knee injury last week. The Mustangs hope to have him on the hardwood this season.)
Lucero, Diehl, and Noel: Cibola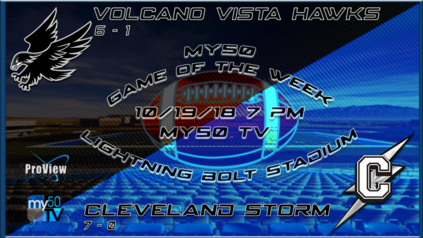 No. 7 Volcano Vista @ No. 1 Cleveland
My 50 TV Game of the Week
"Volcano is going try and prove that they belong on the top tier of 6A teams," says Diehl. "I don't think the Hawks can win, but if they can keep it close, that would be a moral victory. They have more speed than Cleveland has played against this year, but the Storm has more overall talent. Cleveland is the best team there is in the state of New Mexico, I don't know what else can be said about them."
Noel adds, "Ridenour really has Cleveland humming. They have a great defense, the best running back in Dorian Lewis, and last week quarterback Jeff Davison (Galles Chevrolet Metro Player of the Week) set a school record with six touchdowns in the air and 425 yards passing. The Storm are so talented and young; I don't think Volcano will hang with them. Hawks quarterback Jake Deathrage hasn't seen a defense like this since the Hawks played La Cueva in week one, so I have a feeling we'll see some errant throws and rushed decisions. He has looked good against bad defenses, but this week he runs into a great Storm defense and I don't see Volcano on the same tier as Cleveland."
Noel, Diehl, and Lucero: Cleveland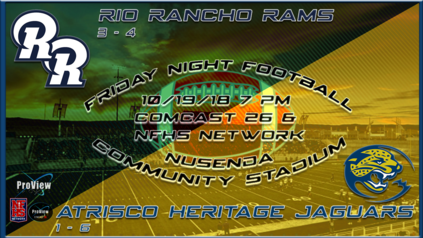 Rio Rancho v. Atrisco
"Rio Rancho looks poised to make a playoff run," says Diehl. "They shouldn't have any trouble with Atrisco unless they start looking ahead as next week they have a huge district game that could determine their playoff seeding against Volcano Vista."
"Yeah," says Noel. "Quarterback Isaiah Chavez is finally healthy, and the Rams are starting to see the benefits of their tough early season schedule. They have matured to the point that no team wants to see them in the first round of playoffs. I don't know if they can battle their way to a high seed, but you really don't want to play them in the first couple of rounds."
Those are the only three games this week on ProView as the network prepares for playoffs and the upcoming high school basketball season.. Enchantment Sports will also be talking with ProView analysts for previews of many of the metro area hoop teams. "I think boys' basketball is going to be so much more competitive than football," says Noel. "It will be a great season."
Other Metro football games of note
Tonight (Oct. 18)
Rio Grande @ Albuquerque High, 7 p.m., Milne Stadium
Friday (Oct. 19)
Academy @ Shiprock
Bernalillo @ Pojoaque Valley
Del Norte @ Capital
Valencia @ Los Lunas
Menaul @ Alamo Navajo
Farmington @ Highland, Milne Stadium
Valley @ Belen
Manzano @ Sandia, Wilson Stadium
Eldorado @ Clovis
Saturday (Oct. 20)
Taos @ St. Pius X, noon
Navajo Prep @ Hope, 5 p.m.
---
For high school information, tips or story ideas, contact Lee Roy Lucero at enchantmentsportsNM@gmail.com.