By Lee Roy Lucero
Enchantment Sports staff writer
Hate to start this week's ProView Preview on a negative note, but last Saturday we learned that Rio Grande Ravens had to forfeit their 36-22 victory over Valencia on September 6. The forfeiture means that Rio Grande (0-7) now owns the state record for consecutive losses at 44 with three more chances this season to snap the streak.
Albuquerque High had the previous record at 43.
District play is in full swing in New Mexico, and I spoke with ProView Networks' Adam Diehl and Sebastian Noel about this week's slate of games on ProView.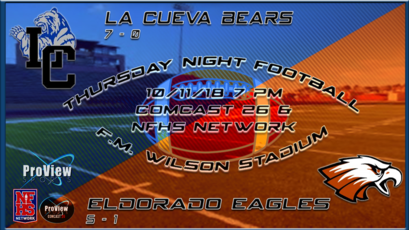 No. 2 La Cueva (7-0) 2 No. 3 Eldorado (5-1)
"Most people think La Cueva should probably take it to Eldorado, but they're not going to," says Diehl. "It is going to be very close game. This is going to be a great rivalry game with a monster crowd and it will come down to the wire.
La Cueva was in a real fight last week (a 24-23 win against Manzano), it came down to an extra point and offensively they have been inconsistent. I feel like they are passing too much and not using their horse D'andre Williams, who has been amazing."
Noel adds, "I think we are going to see the best of this La Cueva team this week, both La Cueva and Eldorado treat this game like a state final. The (Northeast Albuquerque) rivalry is that deep. This is backup quarterback Nick Petty's first real test, as La Cueva has the best defense in the state. I would never bet on Eldorado getting blown out, as coach Charlie Dotson is that good. But La Cueva has more weapons."
Diehl, Lucero, and Noel: La Cueva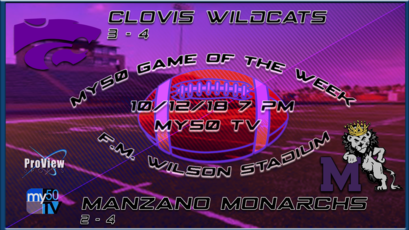 No. 7 Clovis (3-4) @ Manzano (2-4)
"Manzano has now proven that they are a lot better than most of us thought they would be at the start of the season," says Diehl. "Coach Phillip Martinez deserves a lot of credit as the Monarchs lost a lot of talent last year, but they have consistently gotten better every week."
"This young Clovis team came in last week and smashed Sandia 39-0," adds Diehl. "The Wildcats record is deceiving as they played some tough Texas teams. Sophomore quarterback Chance Harris has played really well and Clovis has some really good wide receivers led by Malik and Jaden Phillips. Keep an eye out for this team, they could be a spoiler."
"I was impressed with Clovis last week," says Noel. "Clovis is very athletic at every position. They have the best body language and are extremely positive. You can see they really want to win. As far as the Monarchs, if quarterback/kicker Dakota Powell had not been knocked out of the game on that final scoring drive, Manzano may have taken the game to overtime." With Powell out, the Manzano missed an extra point try after scoring to lead 23-21.
La Cueva then won it on a field goal, 24-23.
"That one-point loss will haunt them," Noel says. "Powell will play this week and that will make the difference. I think Jack Blankenship is very underrated, he could be a  No. 1 wide receiver on any team in the state."
Noel and Diehl: Clovis
Lucero: Manzano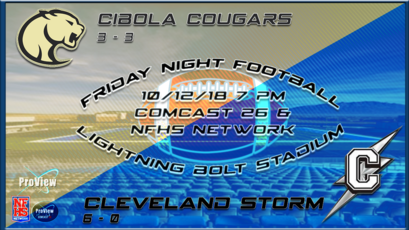 Cibola (3-3) @ No. 1 Cleveland (6-0)
"A sneaky good Cibola team that is way under the radar comes to Cleveland in need of a win," says Diehl. "The Cougars will keep this game close because these teams know each other well. Coach Rod Williams has gone into Cleveland and come out with a win before when he wasn't supposed to.
"Cleveland came off a huge scare as superstar running back Dorian Lewis came off the field last week with an apparent injury," adds Diehl. "We later found out that it was purely a precautionary reason as the score was already 35-0. No need to take a chance. According to coach (Heath) Ridenour, Lewis is a 100 percent to go for Friday night."
"Losing to Rio Rancho was such a huge let down," says Noel "The Cougars aren't the caliber of Cleveland, but they should give them a good game. Cleveland is loaded. When Dorian Lewis was taken off the field, junior Colten Madison stepped up. He should have been player of the week by the way."
Eye on Recruiting: Dion Hunter
Cleveland middle linebacker Dion Hunter. "There is a certain sound that is made when Dion Hunter makes a tackle," says Noel. "He hits hard, and there is a reason that both New Mexico and New Mexico State are looking at him."
Diehl, Lucero, Noel: Cleveland
West Mesa @ Rio Rancho
"The Rams found the win they were desperate for last week with their last second 34-28 victory over Cibola, and a healthy Isaiah Chavez was unbelievable with his five-touchdown performance," says Diehl. "The Rams are young, but coach (David) Howes has had some time with them and they are becoming a cohesive unit that shouldn't have a hard time with the Mustangs. The Rams have some play-makers at the varsity level that are pretty young, but starting to mature."
Noel says, "West Mesa quarterback Camren Schroer came out of last week's game with a knee injury. I hear that he really wants to play, but his knee is still pretty swollen."
Noel, Diehl, Lucero: Rio Rancho
Other Metro Area Games
Thursday Oct. 11
Albuquerque High @ Highland
Friday Oct. 12
Kirtland Central @ Moriarty
Atrisco @ Volcano Vista
Valley @ Rio Grande
St. Pius X @ Bernalillo
Mountainair @ Menaul
Socorro @ Academy