By Lee Roy Lucero
Enchantment Sports staff writer
The pre-district season is over, and all teams are now preparing for district races and hopeful playoff runs.
Granted, many of the district races could be tight. But there wasn't much debating when Enchantment Sports discussed some of this week's biggest games with ProView Network's Sebastian Noel and Adam Diehl.
First, here's a quick look at what could be looming down the road:
Class 6A has seemingly turned into a two-horse race with Cleveland and La Cueva clearly outpacing the rest of the state.
Class 5A is a good old-fashioned shoot-out as there are five-to-six teams that can compete for the blue trophy, and nobody would be surprised if a second-tier team was able to sneal into the race.
Classes 4A and 3A? How about them Hope Huskies? They went down to 3A this year, but they are so good they likey could have won the 4A trophy. Yes, they are big favorites in 3A.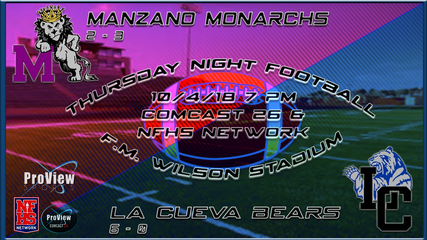 Manzano (2-3) @ No. 2 La Cueva (6-0)
"The district opener for both teams that will be closer than everyone thinks," says Diehl. "I think Manzano has been playing better than most people think, and I think Manzano keeps it closer than most of us believe. Still, La Cueva pulls away at the end."
Noel disagrees, "I think La Cueva runs away with this and it will be a real struggle for Manzano. They don't have the horses to compete with the Bears and this game will show how much the Monarchs lost from last year."
Diehl "Late pull away."
Noel, clapping and laughing, says, "I love it! I love it!"
Diehl: La Cueva
Noel: La Cueva
Lucero: La Cueva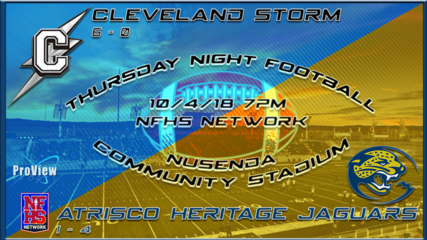 No. 1 Cleveland (5-0) @ Atrisco Heritage (1-4)
"As lopsided a game as you're going to get," says Diehl.
Does that mean it is over at halftime?
"It depends on if coach Heath Ridenour pulls off the dogs. Here is the thing, Cleveland has some other games to prepare for and he might want his starters to get into more of a flow and they can use this game for that."
"Every week Cleveland has added more and more pieces to their offense," says Noel. "The people that said at the beginning of the season that 'this is just the Dorian Lewis show', well that is not the truth. They keep adding and this week coach Ridenour just takes care of business early. Why show anything against (Atrisco) that you don't have to?"
Diehl: Cleveland
Noel: Cleveland
Lucero: Cleveland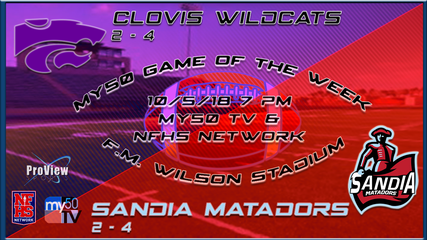 Clovis (2-4) @ Sandia (2-4)
My 50 TV game of the week
"Both teams are struggling a little bit, but Clovis has played and lost the past three weeks to teams from Lubbock Texas (Monterey, Coronado, and Cooper HS). They do have a good win against Hobbs," says Diehl. "They can't start off on the wrong foot in district play and lose to a hurting Matador team."
"Sandia is injured and young and coach Barker has a tough go trying to turn this team around in district play," says Noel. "The Matadors are one-man show with Leshawn Joseph right now and they are having a tough season."
Diehl: Clovis
Noel: Clovis
Lucero: Clovis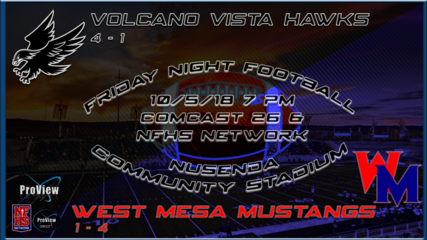 No. 5 Volcano Vista (4-1) @ West Mesa (1-4)
"I'm beginning to think my preseason thoughts about Volcano were wrong," says Diehl. "I didn't think they would make a push for the playoffs, and while I'm not 100 percent sold on them, I do think they can make a push for the playoffs. Their quarterback (Jake) Deatherage has played well all season long and is poised in the pocket. And their defense has looked really good. They have become a dangerous team now that district play is starting."
"I'm not there," says Noel. "The Hawks play down to their competition. They should have an easy time with West Mesa, but I'm not on board with them for this season yet. We saw them against La Cueva earlier, they have some pieces. Both Joah Flores and Jacob Werner are excellent athletes, but when tested Deatherage has made mistakes. The Hawks just need to go and get West Mesa out of their way."
Diehl: Volcano
Noel: Volcano
Lucero: Volcano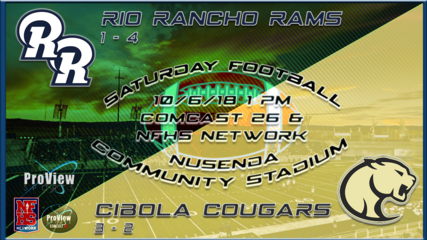 No. 9 Rio Rancho (1-4) @ No. 8 Cibola (3-2)
"Fantastic matchup," exclaims Noel! "This could be for second or third place in this district depending on how you feel about Volcano Vista. The Rams have really struggled and have had quarterback problems since their starting quarterback, Isaiah Chavez, went out of the game two weeks ago. They had an open week, so hopefully he has recovered."
"It is important game for both teams," adds Diehl. "Rio Rancho needs to get on track starting this week if they want to make the playoffs. They are 1-4 and still in the Top-10 due to their tough non-district schedule, but that doesn't mean anything if they don't start getting some 'W's. This is a mandatory win for the Rams. And if Cibola wants to get a decent seed in the playoffs they need this win as well. So, both teams are extremely hungry. It is the biggest early district game this early."
Diehl: Rio Rancho
Noel: Rio Rancho
Lee Roy: Rio Rancho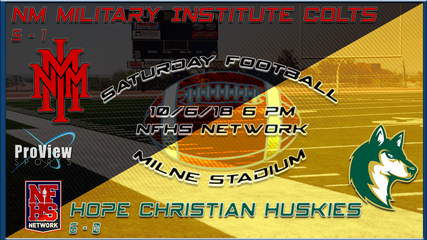 No. 9 NMMI (5-1) @ No. 1 Hope (6-0)
"Two teams with impressive records," says Noel, "but both have gone about it in different ways. Hope has had a tough schedule playing up, meanwhile NMMI has played down. I think Hope rolls them easy."
"Hope could not only win 3A, but they could win 4A this year," says Diehl. "Hope looks as dominant in football this year as they always have in basketball."
Diehl: Hope
Noel: Hope
Lucero: Hope
Other Metro games of note this week:
Tonight (Oct. 4)
Menaul @ Magdalena
Valencia @ Los Alamos
Pojoaque Valley @ St. Pius X
Friday
Piedra Vista @ Albuquerque High
Bernalillo @ Espanola Valley
Deming @ Belen
Rio Grande @ Farmington