Lee Roy Lucero
Enchantment Sports Staff Writer
To be the best, you've got to beat the best – Ric Flair
Cliché?
Of course. But That is exactly what is going on tonight (Sept. 6) as the No.1 Cleveland Storm comes to Wilson Stadium to take on the No. 2 Eldorado Eagles. While Cleveland has been considered the top team since the start of the season, all the talk and excitement is around the Eagles after their 70-42 thumping of the Las Cruces Bulldawgs last week in Las Cruces.
Speaking of the Bulldawgs, they make a trip up to Albuquerque to take on No. 3 La Cueva, while Sandia heads down south to take on 5A's No. 1 team, the Los Lunas Tigers. ProView Networks Adam Diehl and Sebastian Noel spoke with Enchantment Sports about this weekend's matchups.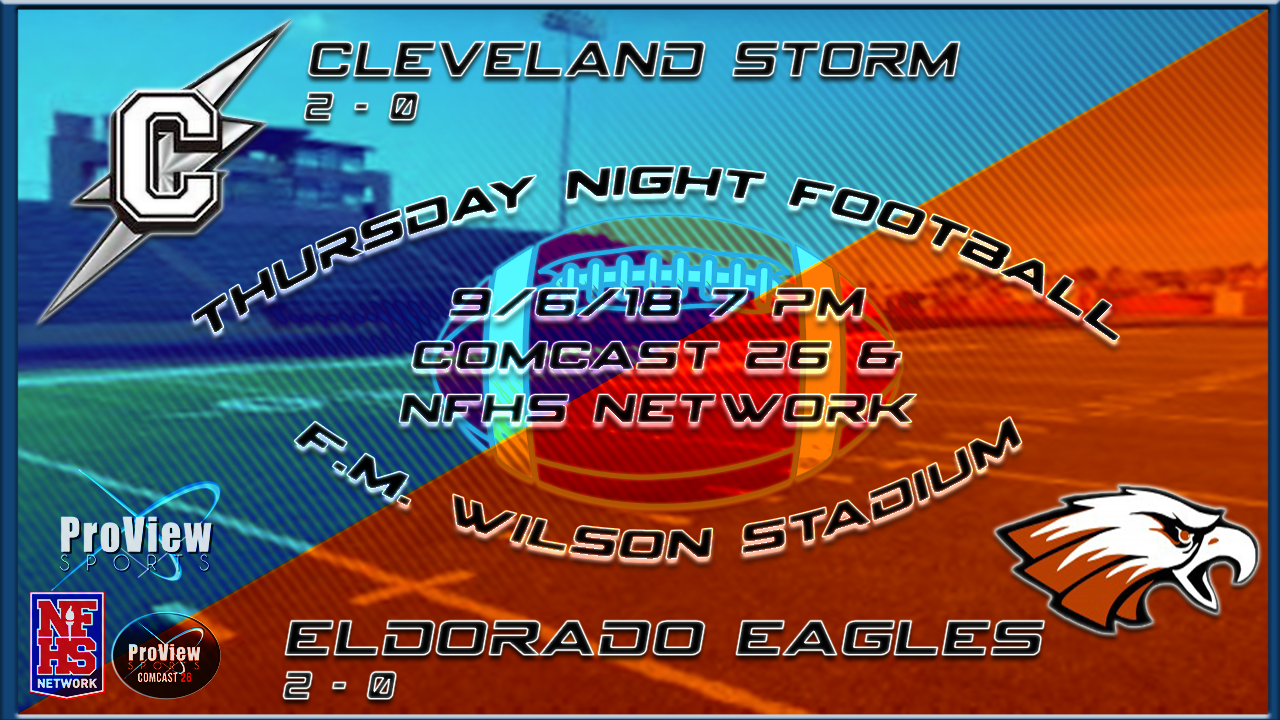 No. 1 Cleveland Storm (2-0) @ No. 2 Eldorado Eagles (2-0)
 "It isn't just the biggest game of the weekend," says Diehl. "It might be the biggest of the year, and just might be the championship preview.
"Cleveland is the consensus 6A No. 1 team in the state, but the high school scene buzz is all about the Eagles and their quarterback Gabe Smith. Nobody goes down to the 'Field of Dreams' and has the game that Gabe Smith had — 650 all-purpose yards and nine touchdown," says Diehl.
"It isn't just Smith," adds Noel, "their entire offense is hot. They have a pair of excellent receivers in Zach Hofman and Trey Duran, their running back Elijah Goree is solid, and arguably one of the best coaching staffs in the state led by Charlie Dotson"
While the Eagles no doubt have the talent to beat The Storm on Thursday night Diehl says, "The Eagles are coming back from a trip down to Las Cruces and playing on a short week, that will have an effect." 
Wait a second guys. Isn't Cleveland numero uno? Is that all hype? Why isn't anyone talking up the Storm?
"Cleveland is No. 1 and hasn't done anything to make anyone question that ranking," says Noel. "(RB) Dorian Lewis is the guy," adds Diehl. "He is a next-level guy for sure, my fear for Cleveland is that they may use Lewis too much. He is their one man show and workhorse, the entire offense goes through him. It will be interesting to see what other threats step up to take the pressure of Lewis. I think you will see a heavy offensive type game with both teams going into the 40s."
Winner:
Diehl: Eldorado
Noel: Cleveland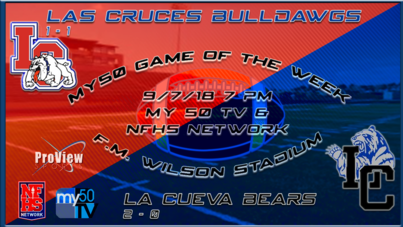 No. 4 Las Cruces (1-1) @ No. 5 La Cueva (2-0)
"I see a three-team race for the Blue Trophy," says Diehl. "Cleveland, Eldorado, and La Cueva, perhaps Centennial has an argument but not sure yet. La Cueva has to prove what Eldorado accomplished last week; that they can beat if not smash Las Cruces. The Bulldawgs might be a little bit down, you can see they are missing some pieces on the defensive side of the ball. I tell you what, Eldorado could have put up more points if they had to.
"Offensively La Cueva is starting to click, and their defense has been tough. La Cruces is a running team and I don't know if they can run on La Cueva's defense.
"I really think this is a competitive game. La Cueva will limit the Bulldawgs' running game," says Noel. "So, Las Cruces will have to go after the big play to beat the Bears. If La Cueva has any kind of weakness it is in the secondary and they can be thrown on. Quarterback Marcos Lopez is going to have to hit their big play receiver Ivan Molina on some big plays if Las Cruces has any chance of winning. Chase Koanui Chaloupek is a really good running back, but La Cueva's defense is strong, he will have a tough time running against the Bears."
Winner:
Diehl: La Cueva
Noel: La Cueva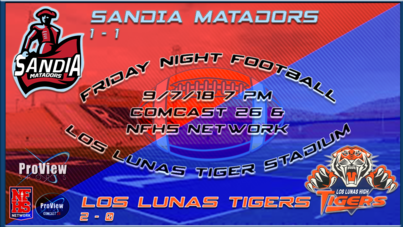 Sandia (1-1) @ 5A No. 1 Los Lunas (2-0)
"Los Lunas is a solid team that has earned its ranking," says Diehl. "I think Sandia is still trying to find out who they are. Atrisco scored 31 points on them and the Jaguars aren't that good. This would be a good win for Sandia if Barker can figure it out in Los Lunas, but I think it is going to be really tough to pull it out on the road. The good news for Sandia is that all indications are that running back Leshawn Joseph is back and ready to play."
"Los Lunas is a really good team," says Noel.  "Their quarterback Nick Gaerlan is a dual-threat QB who is on the same caliber as Eldorado's Gabe Smith and I'm really impressed with what coach Maupin is building in Los Lunas. He had 140 kids come out this year and their plan is to not play any iron man football (kids playing both ways). That bodes well for the Tigers in the fourth quarter of every game."
Winner:
Diehl: Los Lunas
Noel: Los Lunas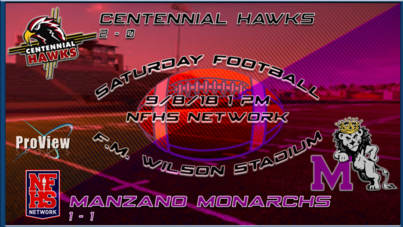 No. 5 Centennial @ Manzano
"Centennial is going to really like coming into the city," laughs Noel, "The Hawks beat West Mesa last week in a blowout, and it is possible to happen again as Manzano isn't the team they were last year. There is an interesting tidbit that (Centennial) coach Aaron O'Campo did coach (Manzano's) Phillip Martinez when he played, but I don't see the Monarchs as providing much resistance.
"Centennial is ranked No. 5 after beating 0-2 Rio Rancho and West Mesa, and some are wondering 'Are the Hawks that good, or do they just benefit from a soft schedule?' "They can only play the schedule in front of them," says Noel. "Have to win those games and see how district and the season plays out."
Winner:
Diehl: Centennial
Noel: Centennial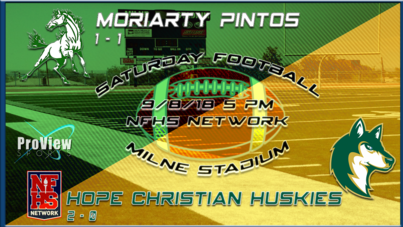 Moriarity (1-1) @ Hope Christian (2-0)
"Hope is looking like a player in the 4A division," says Diehl. "They had a huge 10-3 overtime win to start the season in Portales; this could be a game to make noise in the state for the Huskies."
Noel says, "This is my first time seeing Moriarity this year. I know the Pintos are going to try and run the ball.
"I believe that Hope has the next D-I kicker out of New Mexico in Vince Quezada," adds Noel. "He can routinely drill 50-yarders and does double as the Huskies' quarterback."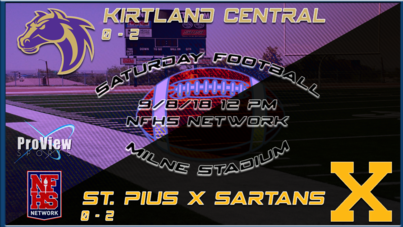 Kirtland Central (0-2) @ St. Pius X (0-2)
 "This is my first time seeing either team," says Diehl. "We are glad to be able to broadcast these games and get these young men on television as each team is going for their first win of the season." 
Rio Rancho (0-2) @ No. 7 Clovis (2-0)
The Wildcats started the season 2-0 and it is time for the Rams to figure out if they are a team to beat. Meanwhile, they are simply a team that desperately needs a win. Isiah Chavez is still down so that could spell trouble for the Rams.
 Other Games of Note:
Thursday
Valencia at Rio Grande, Milne
 Friday
Belen at Artesia
Atrisco Heritage at Carlsbad
Highland at Cibola
Valley at Piedra Vista
West Mesa at Mayfield
Farmington at Del Norte
 Saturday
Bernalillo at Albuquerque Academy
Oñate at Volcano Vista