By Lee Roy L. Lucero
Enchantment Sports Staff Writer
Enchantment Sports will be taking local sports fans around the Rio Rancho/Albuquerque Metro Area to bring the highlights and views of the local broadcasters from ProViewNetworks.com as we bring you the best coverage on local high school football.
The Thursday night affair starts us off from Milne Stadium as the Valley Vikings (1-0) take on the La Cueva Bears (1-0).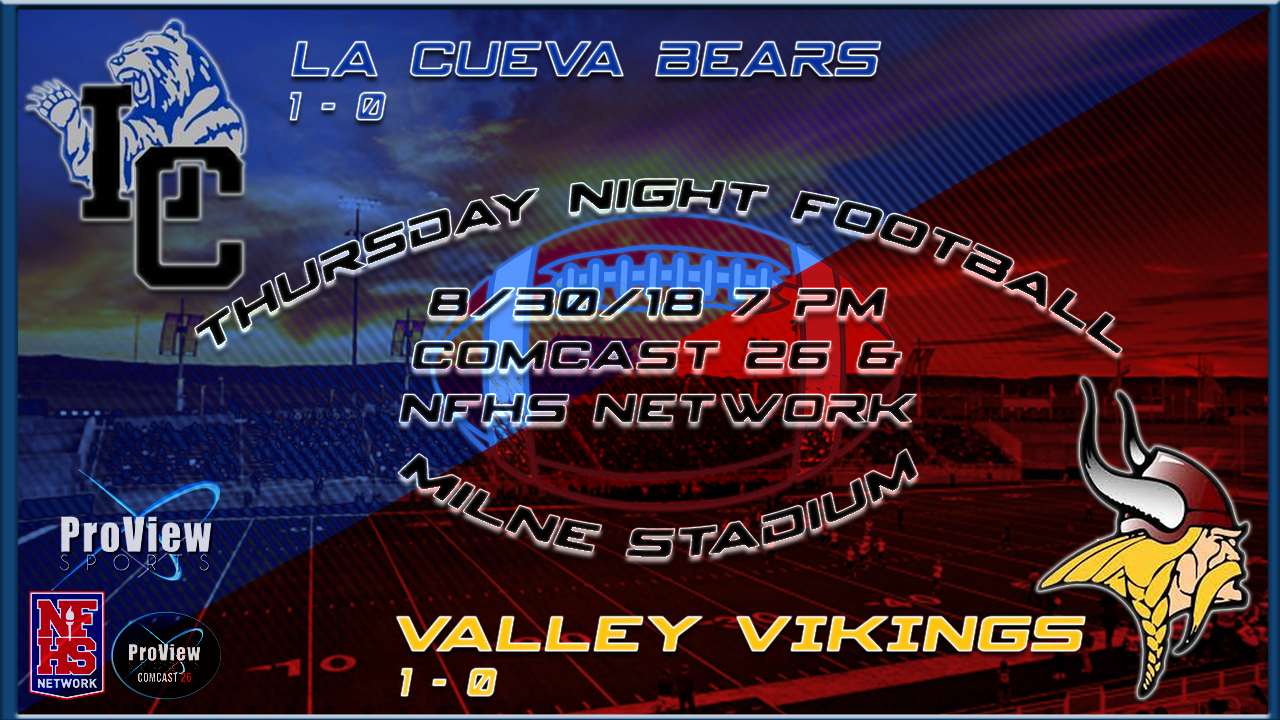 La Cueva looked sloppy in week 1, and with words like that, you would think La Cueva took a loss. But that is because so much is expected from La Cueva, especially its defense. So it was actually considered a struggle that the Bears beat Volcano Vista 38-26.
ProView's Adam Diehl says, "I expect for them to have a bounce-back performance this week. Defensively, I think they are too big and strong for the Vikings. The (Vikings) had a nice 29-8 victory over Albuquerque High last week, but this week they are going up against a really good 6A team in La Cueva. D'Andre Williams is one of the top three to four running backs in the state and Noah Woison provides a nice combination."
"On paper you would think this is blowout city, but traditionally Valley usually holds their own," says Sebastian Noel, of ProView. "That doesn't always translate into victory, but they don't embarrass themselves. I give them a puncher's chance. I heard (coach) Judge (Chavez) was going to spread it out more. I know he is happy with quarterback Manuel Sanchez-Vargas, and likes his receiving corps of Jove Messenger and Garrett Moseley, still. It's Judge Chavez … he has always loved that three yards and a cloud of dust."
Come back later tonight as Adam, Sebastian and Lee Roy take a look at the rest of this weekend's Metro area high school slate.
THURSDAY
Turned out, Valley was punched out, Sebastian.
La Cueva rolled 45-0
Also on Thursday night, Valencia 36 Highland 6
FRIDAY
Eldorado (1-0) at Las Cruces (1-0)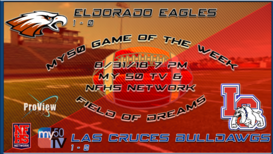 The My50 TV's statewide game of the week comes from Las Cruces on the "Field of Dreams."
It's the field that many northern teams consider the Field of Dread
"This is big time" says ProView Lead Announcer Adam Diehl. "There has never been a regular season game with a statewide broadcast from Las Cruces. We were able to work out a deal with Las Cruces Public Schools and want to give a big shout-out to Las Cruces Athletic Director Ernie Viramontes for making this broadcast possible.
"Both teams opened up with victories, but not 'competition victories.'"
Eldorado beat West Mesa, which we expected, and Las Cruces handled Manzano.
"This is the first test for both the Bulldawgs and Eagles."Noel adds, "We get a chance to see how good Eldorado and Las Cruces really are. Las Cruces has some really good weapons starting with running back Chase Koanui Chaloupek, the coach's son and quarterback Marcos Lopez, and standout wideout Ivan Molina. Molina had a solid game last week versus Manzano from the "wildcat" position; and Manzano has a solid defense. Eldorado has a big challenge trying to contain Molina.
'This is the best matchup in the state, and like all big matchups this season; the question is 'Does the winning team in this matchup have a shot of beating Cleveland?'"
In Rio Rancho, both the Rams and Cleveland are hosting out-of state-teams. "It has been very good for Rio Rancho and Cleveland to pull teams from out of state to play," Noel says.
Noel: Eldorado
Diehl: Eldorado
"It shows a lot of respect that these teams are willing to come into New Mexico play the Rio Rancho teams."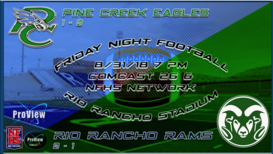 Rio Rancho (0-1) vs. Pine Creek (Colorado Springs, CO.)
"Pine Creek is the 2017 CHSAA 4A runners up from last year. It is ranked No. 4 in Colorado 4A, Noel says. "This may be even a tougher test for Rio Rancho than during its loss Centennial was last week. The early schedule for the Rams is rough, but I look for them to be much improved by the time district play rolls around. We didn't see them against Centennial, but we finally get to see what this team is all about.
Noel: Rio Rancho
Diehl: Pine Creek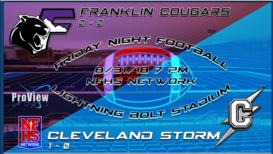 \
Cleveland 1-0 v. Franklin 0-0 (El Paso TX)
"This is the first game for Franklin, so we don't know what to expect from them," Diehl says. "However, we do know what to expect from Cleveland. They are led from transfer running back Dorian Lewis; and he is the real deal. He is probably going to get a D-I scholarship of his choosing her real soon. Lewis rushed for a little under 200 yards last week and 2 TD's (there are no official stats reported) in one half of football vs. Onate last week.
"He is a game changer, and might be the best running back to ever come out of Cleveland. We are talking Rommell Jordan good," says Diehl. "New Mexico high school football fans are really excited to see him."
"They (Cleveland) have a full roster of players and that matters as they don't have as many guys playing iron man football. They are high on their QB Jeff Davison, and coach Heath Ridenour does a really good job that gets the most out of his kids," says Noel.
There are a few more games that ProView Networks won't be broadcasting this weekend, but we they are still important, so let's take a look!
Noel: Cleveland
Diehl: Cleveland
SATURDAY
West Mesa (0-1) vs. Centennial (1-0)
Centennial comes up this Saturday and while I'm sure coach Aaron O'Campo isn't going to say this to his Hawks, they should cruise against West Mesa. Noel says, "I'm excited to get a look at their young quarterback Lance Frost and wide receiver Aiden Trujillo. The Hawks were named as the No. 2 team on this week's ProView Networks Top 10 and Sebastian said, "Oh that Adam Diehl, he is so funny. At the beginning of the year I had to talk him into putting them in the Top 5 and now he has them ranked second? I don't think they are the 2nd best team in the state."
Volcano Vista (0-1) v. Del Norte (0-1)
"For the first time ever since being at ProView Networks I'm excited to be able to pick my alma mater (Del Norte) over Volcano Vista," says Noel. "Christian Mejia had a good game, in a loss to Belen last week. Binkley says he may have the No. 1 QB in the state. I know how talented he is. He has a nice arm, he can run, and can elude the pass rush, I want to see how good his wideouts are. They didn't drop a lot of balls… which if they can manage that, and play a little defense they have shot."
"I'm sure they are hoping that Volcano Vista beats themselves, which at times they seem prone to doing. If Volcano Vista is able to play disciplined football they should be the favorite. "Still I'm picking my Knights," says Noel.
Sandia v. Atrisco
If Sandia running back Leshawn Joseph plays, the Matadors should easily cruise to victory. The last I heard was that he was going to sit out this week, I believe Sandia should still win.
Other Metro Area games
Friday
Piedra Vista vs. St. Pius X
Los Lunas at Alamogordo
Farmington at Belen
Mesilla Valley at Menaul
Albuquerque Academy at Tucumcari
Hope Christian at Espanola Valley
Saturday
Cibola at Onate
Albuquerque High at Miyamura
---
Contact Lee Roy Lucero at leeroy.enchantmentsportsNM@gmail.com.